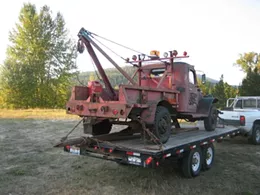 Towing scandal: It's outta here.
Kevin Shade
, a former detective with the St. Louis Metropolitan Police Department, was sentenced yesterday to 27 months in prison for his role in the towing scandal that rocked the department back in 2008.
According to the indictment the 36-year-old Shade
passed vehicles for inspection despite obvious flaws, and then signed Vehicle Examination Certificates falsely stating there was no apparent damage or only slight damage to the vehicles. In exchange for performing these and other faulty inspections, Detective Shade received cash payments from an employee of S & H Parking Systems.

Last week Gregory Shepard, a former police officer employed by S&H was sentenced to 10 months in prison for his role in the scandal. The week before the brothers who owned S&H -- William and Kenneth
Bialczak
-- were each sentenced to 366 days in prison.
After Shade's sentencing yesterday, U.S. Attorney
Richard Callahan
announced that federal authorities have concluded their investigation and expect no more indictments.
Per a statement, Callahan noted:
"All investigative leads have been fully explored and followed. It pains me to state the obvious, but this Office takes allegations of police wrongdoing most seriously. In the last two years, unrelated to the towing investigation, we have successfully prosecuted multiple instances of police misconduct and that same dedication and effort has been present in the S&H Towing matter. As with any investigation, however, not all allegations are true and not all true allegations are provable. What is provable has been charged and what is not provable has not. No additional criminal charges are anticipated. I want to publicly thank and commend the agents who worked on this matter. None of these charges were self-proving and without their hard work and dedication, the four defendants who were successfully prosecuted might otherwise have gone unpunished. I also want to remind the public that the vast majority of the men and women who work in the St. Louis police department are honorable human beings who deserve our respect and gratitude for the job they do. The acts of a few bad officers should not tarnish an entire department."

Meanwhile, the St. Louis police department issued a statement of its own yesterday, saying federal authorities had asked it not to launch its own investigation at the same time. With the conclusion of the federal inquiry, the police department says it will now ask that those agents to turn over what they know to the police.
The department will review those materials to determine what actions the department may need to take internally. If, throughout the course of any internal investigation the department learns of criminal behavior, that information will be shared with prosecuting authorities at the state and if applicable, federal level.
In addition, the police board has filed suit against St. Louis Metropolitan Towing (a.k.a. S&H Towing) for the payment of monies of more than $450,000 it believes are owed to the department. A trial date is set for October of 2011.