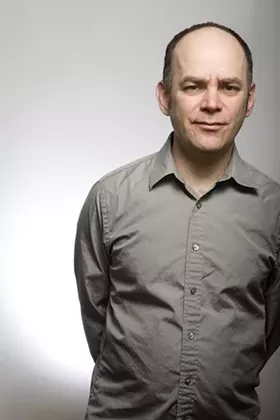 Photo by Francine Daveta
Todd Barry looking "playfully fed-up."
Unlike lots of standups who are frenetic loudmouths, Todd Barry is a soft and gentle sip of vinegar. A card-carrying member of alt-comedy's inner circle, Barry has mastered a delivery that's famously low-key, though his working life is anything but: He's done film, festivals, lots of stuff in animated TV, was briefly the Third Conchord in
Flight of the Conchords
, and has played sleigh bells for New Pornographers. He'll be at the Firebird on Friday.
Daily RFT
:
So you recently moved out of your apartment of some 20 years? Why, and how did it go?
Todd Barry
: I did move. I should've done it 15 years ago. The apartment was shitty, small, and had mice, but it's just so much easier to just sign a lease than look for an apartment in New York. The move was a bit of a nightmare because I'm kind of a pack rat/low level hoarder. No dead animals or anything, just lots of accumulated paper (mainly posters of myself).
In "The Wrestler," you were very convincing as a petty-tyrant middle manager who used his authority over Mickey Rourke to make him feel small. Any real-life inspirations?
I think we've all had mean, bully bosses, so it wasn't too hard to imagine what that guy would be like. Also, I'm like that in real life.
Side question: Did you hang out with Mickey Rourke?
We hung out constantly and became fast friends. He's looking over my shoulder as I write this. But seriously, there wasn't really much time to hang out. He's also a pretty shy guy, and so am I, so we didn't chat much. But he was nice when we did.
I heard you recently played a vampire in a film (I think with Sigourney Weaver). What was that like?
It's a movie called "
Vamps
" that was directed by
Amy Heckerling
, who directed "Clueless" and "Fast Times at Ridgemont High" among others. It's sort of a modern day Vampire comedy. That's probably not the best description. But I got to some pretty heavy makeup for some of it, which I've never dealt with before. And yes, I did a scene with Sigourney Weaver, which was sort of surreal.
Your pal Louis C.K. is physically bigger than you. Have you ever gotten into a fight?
Louis and I usually get in about 20-30 fistfights a year. I win the majority of them.
What TV show do you wish you could be in (or wish you could've been in)?
This sounds like a "joke answer" but I'd love to be a defendant of plaintiff on "
Judge Judy
." Just to see how mean she'd be, and how I'd react.
Have you ever eaten anything scary?
I tried raw oysters many years ago. I know lots of people find them the "opposite of scary" but not me.
Do you like children?
Not to the extent that I want to have any, but if I see a cute one on the street or something, it will make me smile. And I will make a stupid face to try to make it laugh. I never should've admitted that, because it probably makes me look less "edgy," but it's too late to delete.