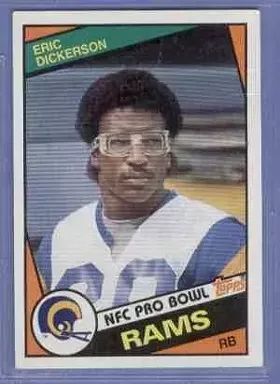 I'm not going to lie. The 2010 draft will almost assuredly not include anyone with hair that can match up to Eric Dickerson's. That shouldn't stop the Rams from at least considering taking a player at his old position, though.
To review so far:
So now we come to part five of this interminable look at the Rams' needs for the draft ahead, and number five concerns one of the most storied positions in the history of the franchise. After all, this is the franchise Eric Dickerson played for, as well as some guy named Marshall Faulk. The Rams' current occupant isn't too shabby, either, come to think of it.
Yes, that's right. I'm talking about the running back position. Steven Jackson won't play forever, and he's coming up hard against the expiration date for halfbacks in the NFL. The time to think about what to do in the backfield is now.
I know, we all love Steven Jackson. Well, we do now, anyway. It's a bit funny to me, but Jackson seems to have finally won the St. Louis fans over to his side now, just when the clock is really beginning to tick on the Rams finding his replacement. Part of it was him replacing Marshall Faulk, of course, which cast him in the role of usurper from the very start, but it's just a little odd how long it took for the fanbase to really embrace Jackson.

Unfortunately, Jackson is also a ticking time bomb at this point, given that he's a running back approaching 30 years old. Don't get me wrong, he surely has another good season or two in him, but counting on him to be one of those freakishly rare running backs who remains effective past the big three oh just isn't a good bet. It's been a need for the Rams for quite some time now to find a suitable backup for SJ39, but it's getting to the point now where I believe they need to find not just a backup but a guy who can apprentice under Jackson and hopefully take over in the next few years.

Alabama's Mark Ingram, last year's Heisman winner, is the consensus top running back in the draft, but he'll almost surely go in the first round, and there are plenty of other directions the Rams could, and should, go with their first pick than to take a running back. He would, of course, represent an ideal replacement for SJ39 in a couple years, but he may be gone by the time the rams pick anyway. Plus, to be honest, I'm not all that keen on using a first-round pick on a running back pretty much ever. You can build a good running game without a great back. Plus, if the Rams fulfill my number three priority they'll have much better blocking up front to make holes for whoever they get to come out of the backfield.

Shane Vereen of California is a solid back, with good grades across the board for tools. Demarco Murray from Oklahoma is much the same. Neither of them are wow kind of guys, but both are very productive players who should be good pros.
There are a pair of extremely talented but undersized backs available, either of whom could certainly offer a dynamic change of pace from Jackson.
Noel Devine
of
West Virginia
and
LaMichael James
of
Oregon
are both shifty, exciting playmakers who suffer from a significant lack of size. Either one could come in and be a
Darren Sproles
type for the Rams, but neither really has the physical capacity to be an every-down back in the NFL. Devine in particular fits that 'scat back' mold remarkably well, while James has some support as an every-down guy from some quarters. Picking one of those two guys could give the offense a big shot in the arm, but neither fills Jackson's shoes if he falls off a cliff in the near future.
One guy I do think is intriguing is
Daniel Thomas
from
Kansas State
. Thomas is a big, physical runner with better speed than you think, a little like Jackson himself. While Thomas doesn't have quite the freakish physicality of SJ39, he's cut from the same bolt of cloth, at least. Thomas will probably go somewhere in the second round, maybe a little later depending on what positions are emphasized.
I'm not looking for the Steven Jackson era to end anytime soon here in St. Louis, but to ignore reality would be a huge mistake for the Rams. That reality is this: Steven Jackson is a remarkable running back closing in on 30 years old, an age just a bare handful of running backs in the history of the game have passed and still been productive. The pounding a halfback's body takes leads to an awful lot of very short careers, and even the great ones are prone to a serious downturn as they move beyond their twenties.
It may not be the most important position for the Rams to fill in 2011, but the longer they put off finding a guy to share and then inherit the load at running back the more risk they run of something happening to Jackson and having no one to fill the void.