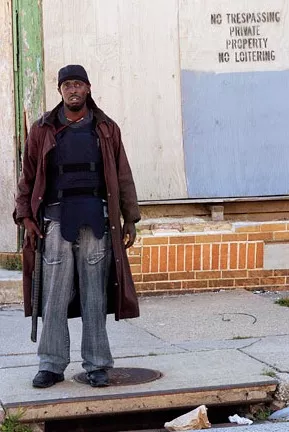 Image via
Real life Omar probably didn't throw crack into the storm sewer.
Earlier this year, Daily RFT compared 25-year-old
Reggie Moses to Omar Little
, the fictional, shotgun-toting, Robin Hood of Baltimore from the HBO series
The Wire.

Back in June, Moses and three associates stole 600 grams of crack, a Nintendo Wii and a PlayStation from a drug dealer in East St. Louis. The dealer,
Mintai Bedford
, didn't take kindly to Moses' rip-and-run tactics and sped off after him in a Dodge Durango. Moses, rolling in a Ford Excursion, led Bedford on a bullet-riddled chase through Madison County that ended in Alton.
It was a near-perfect case of art-imitating-life-imitating-art. And, as
Wire
mastermind David Simon would surely have scripted it, Moses' story does not have a happy ending.
Yesterday, district court judge William Stiehl sentenced him to 30 years in federal prison.
In August, a jury convicted Moses of three separate felonies: conspiracy to interfere with commerce by threats of violence, interference with commerce by threats or violence, and possession of a firearm (in this case a Glock .40) in furtherance of a crime of violence.
According to
court records
, Moses has a lengthy rapsheet in St. Clair County that dates back to 1999 and includes four felony convictions: robbery, reckless discharge of a weapon, unlawful use of a weapon and unlawful possession of a firearm by a felon.
(Fictional Omar, nods approvingly.)
Apparently real life Omar is also a terrible driver. Moses has been convicted of a whopping 22 traffic offenses since 1999, with citations for everything from speeding to failure to use a turn signal.
Remarkably, as the court documents below reveal, Moses' traffic tickets were submitted as evidence against him during his recent trial.
Reggie Moses Indictment Evidence Sentencing