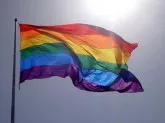 Got questions about the
recently-passed bill allowing civil unions for same-sex (and opposite-sex) couples in Illinois?
Sure you do.
So head on over to Bellville, Illinois, on Thursday to hear some experts speak and answer any questions you may have about the unions, which will be available to folks in Illinois starting this summer.
On hand will be attorney Brian Tiemann with
McDermott, Will & Emery
and Rick Garcia, public policy director for
Equality Illinois
, a Chicago-based organization tracking equality for lesbian, gay, bisexual and transgender folks.
"People need to know what a civil union means -- how do you get into it, how do you get out, how much does it cost, all the nuances," Caroline Staerk, field director for Equality Illinois, tells the
Daily RFT
. "We're hoping this will be the first of many across the state."
The event takes place at St. Paul's United Church of Christ, 115 West B Street, Belleville, Illinois -- about a 40-minute drive from downtown St. Louis. It starts at 6:30 p.m., and folks are asked to RSVP by emailing cstaerk@equil.org.