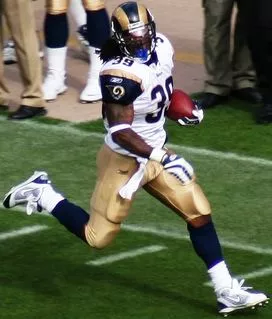 Steven Jackson has found little open space to run in this season, thanks in large part to a soft interior offensive line.
Last week, we looked at what I consider to be the two biggest areas of need for the Rams to address as they plan for the 2011 NFL draft.
Wide receiver topped the list
, as
Sam Bradford
is an elite quarterback who needs elite receivers to throw to.
Next came outside linebacker
, to try and fill in the two gaping holes the Rams have right down in the soft underbelly of their mostly solid, occasionally dominant defense.
Next up is the interior of the offensive line, which just happens to be serendipitously timely. You see, I wrote up this whole series of draft previews last week as a single, gargantuan article that was too long and rather unwieldy. Ergo, the decision was made to split it up into more manageable chunks. A nice side effect is that the section on the middle of the offensive line just happens to coincide with yesterday's victory, in which we saw Steven Jackson do some rather tremendous work despite truly atrocious play from the guard positions.

Rodger Saffold has been outstanding as a rookie at left tackle, and while Jason Smith hasn't lived up to his billing as the second overall pick, he's been pretty solid on the right side as well.

On the inside of the O-line, though, things are much less rosy. All season we've seen the Rams struggle in run-blocking, and there just hasn't been much room for Steven Jackson to run through most of the time. The culprit has been a soft middle of the line, with Adam Goldberg really struggling and John Greco not seeing much playing time. (Which I still don't understand, by the way.) Jason Brown has been pretty good since coming over from Baltimore, but not great by any means.
The good news is this: When you need help at the offensive guard positions, you don't generally have to draft it in the first round. Or even the second round, for that matter. You need a left tackle? Well then, you'd better hope you're picking early enough before the good ones are gone. You need a center-slash-guard road grader? Eh, just wait and grab a big strong widebody in the third round somewhere. That's just the way it works. Now, that's not to say the very best guys on the inside don't go earlier than that; it's just that there are always a bunch of brick-wall types with limited mobility in the middle rounds who can come in and offer power, stability and the ability to open up running lanes for an NFL offense.
The bad news is this may be an historically awful draft for the offensive line position, though things aren't quite as brutal on the guard side as if you were looking for a tackle. Mike Pouncey from Florida is probably the top name on the board on the inside of the O-line, and he could very well be the road grader the Rams need to open up running lanes. He lacks the nimble feet necessary to play at tackle, but his size and strength (6'5", 320), make him a beast in close-quarters work.
Beyond Pouncey, Mike Brewster of Ohio State and Stefen Wisniewski of Penn State are both centers, but either should be able to play center or guard at the NFL level. Brewster in particular fits the mold of a dominating inside presence. John Moffitt out of Wisconsin is a guy I particularly like. They know how to develop offensive linemen at Wisconsin, and Moffitt fits the bill for an inside guy. He's big, he's strong and he plays with that nasty streak you love to see in the trenches.
Nate Potter of Boise State could be an intriguing choice. He has played both tackle and guard in college, giving him the added benefit of versatility, but he probably fits better on the inside where he can play in a phone booth very effectively.
The nice thing here is the Rams have the anchors of their offensive line in place, with two high-quality tackles protecting Sam Bradford from those who wish to do him harm. Now they just have to find a horse or two to fill in the gaps in the middle to make their line into the impenetrable wall it could be.