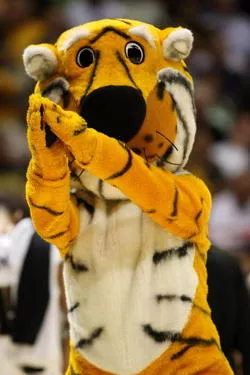 It's not as bad as it could've been.
Last week we speculated that the Missouri Tigers would get
dissed in the bowl selection
process despite the team's impressive 10-2 record. As it turns out, Mizzou didn't
not
receive an invitation from a name-brand bowl (ie. Cotton or Orange) but it did end up with a decent consolation prize -- even it it is a ".com" bowl.
The Tigers are headed to Tempe, Arizona, to face off against the 7-5 Iowa Hawkeyes in the
Insight Bowl
on December 28. The bowl pays the school more ($3.325 million) than it would have received playing the Holiday or Alamo bowls -- the two other places where Mizzou was most likely to land after Texas A&M got the invite to appear in the Cotton Bowl.
What's more, Missouri's invite has
Nebraska Cornhusker fans pondering why
they didn't get an invite to Insight despite beating the Tigers early this year.
Instead, they'll play the Washington Huskies in the Holiday Bowl in San Diego. Nebraska destroyed the 6-6 Huskies earlier this season by a score of 56-21.
The Hawkeyes, meanwhile, are perhaps better than their 7-5 record suggests. As Mizzou beat writer Vahe Gregorian notes in today's
Post-Dispatch
, the Hawkeyes lost its five games by a total of just 18 points and knocked off No. 7 Michigan State earlier in the season. What's more, the game December 28 will be the first time since 1910 that Mizzou has met Iowa on the gridiron. Game of the century, you could all it.