St. Louis-based
Express Scripts Inc.
is the nation's second largest "pharmacy benefit management company" -- handling an impressive 12 percent of all prescriptions in the United States through mail order and retail drug stores alike.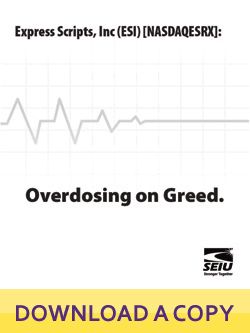 But the company earlier this year
announced plans to close a processing center in Bensalem
, Pennsylvania -- angering the powerful
SEIU labor union
, which represents employees there. The SEIU fought back in August by
staging a protest in front of the company's St. Louis headquarters
and later took its roadshow to
Washington, D.C
.
Now the SEIU is turning a blistering eye to the company's overall operations, alleging that problems with cash flow and shady business dealings are related to the Bensalem closure. The union released a report on Express Scripts last week called
"Overdosing on Greed"
-- a title that should give you a good idea of the tone. (Hint: It's scathing!)
Among the allegations in the report:
* The company has been accused of deceptive business practices, including inflating the cost of generic drugs, neglecting to pass on manufacturer's discounts and switching drugs from those prescribed by physicians.
* Express Scripts has faced lawsuits from numerous clients. "A number of public and private plans have taken Express Scripts Inc. to court to recover overcharges, and, in some cases, they have argued that the company violated state and federal laws," the SEIU reports.
* A series of audits from state, county and municipal clients have found big problems with Express Scripts's performance. The company settled a case with 28 states' attorneys general -- paying up to $9.3 million to settle claims relating to alleged drug-switching.
* Rapid expansion has come via mergers and acquisitions, leaving Express Scripts with high debt and troublingly low short-term liquidity. "The combination of excessive debt, much of it held by big banks, and demands for ever-increasing earnings per share, have strained Express Scripts's production capacity, and the company's workforce, to near their limits," the SEIU report concludes.
So what does Express Scripts have to say in response? Damned if we could find out. We contacted its public relations department on Friday and have yet to receive a response. We'll let you know if we hear back.
In the mean time, a word of advice to any other up-and-coming companies out there with a history of litigation and troubling audits: Don't piss off the SEIU. Seriously! These guys mean business.
You can
download the entire report here
.