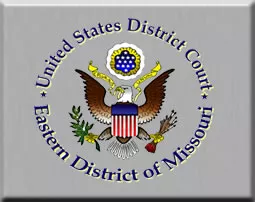 http://www.moed.uscourts.gov/
Drama at Eagleton!
What a day in Missouri's Eastern District! Here's but a sampler of yesterday's scintillating filings:
1)
A female inmate held at Scott County jail
accuses an officer of raping her and giving her chlamydia
! Two other women detained there also allege sexual assault.
2)
Sherri Berry
, a former bookkeeper at
Pernikoff Construction Company
in University City gets
indicted for embezzling about $380,000
.
3)
Barry Brown
gets indicted for buying and possessing
incestuous child porn favorites
such as "Mom Sucks Boy," "Mom Fingers Daughter," and some other stuff too sickening to even mention here.
4)
An East Boogie nightclub owner and alleged gang member
gets his 2006 Mercedes Benz seized (it was worth about $21 large)
.
Kelvin Davis
, operator of Rokel's in East St. Louis, was listed as a member of the Vice Lord / Four Corner Hustler gang out of Chicago. He told authorities back in June that he bought the Benzy thanks to "good hustling," specifically heroin dealing.