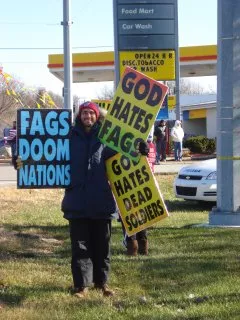 godhatesfags.com
Shell hath no fury!
On Monday,
St. Charles County
passed an ordinance
restricting one's ability to protest a funeral.
Huge
bummer for members of the Kansas-based
Westboro Baptist Church
, who like to picket at military funerals. They believe that God orchestrates the murder of American soldiers in retaliation for our national tolerance of homosexuality.
So the Westboro Baptist crew is suing St. Charles County in federal court for infringing on their First Amendment Rights. (Read the
full filing)
.
Here's your daily sampling of crazy, pulled from their complaint (filed by the
ACLU
):
God is punishing America, for the sin of homosexuality and other policies that...promote sin, by killing Americans, including Soldiers...

scriptures teach that soldiers who die on the battlefield for a nation that is at enmity
with God cannot go to heaven. Furthermore, contrary to the views of public figures and the public at large, such individuals are not heroes...

Also...one of the great sins of America is idolatry in the form of worshiping the human instead of God and that, in America, this has taken the form of intense worship of the dead, particularly soldiers.

Westboro v. St. Chaz County