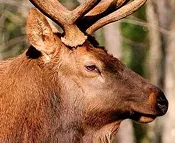 mdc.mo.gov
Elk!
The
Department of Conservation
is about to reintroduce about 150 elk into southwestern Missouri. (They were here long before Europeans arrived, but were completely wiped out by the end of the Civil War.)
The move has not only angered the
Farm Bureau
; now, you've got politicians such as Republican State Representative
Casey Guernsey
voicing concerns
that the elk could damage crops or cause traffic accidents.
The state is willing to pay more than $400,000 to restore the species; should the state also be willing to assume liability for any damage the animals cause?