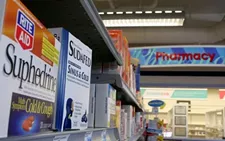 Image via
Let's hope meth cooks don't have health insurance
The Show-Me State's governor and attorney general announced today that they support a law to require a doctor's prescription to obtain pseudoephedrine, an ingredient found in several types of cold medicine that can be used to manufacture meth.
The
Post-Dispatch
reports
that Nixon and Koster held a press conference this morning at the Jasper County Sheriff's office to unveil a "legislative proposal" for prescription pseudoephedrine.
Missouri --
the undisputed meth capital of America
for ten years running despite
a new electronic tracking database
intended to restrict cold medicine sales -- would be the third state after Oregon and Mississippi to enact such a law.
The
P-D
notes that the prescription proposal will likely face stiff opposition from organizations like the
Missouri Pharmacy Association
because it poses "an inconvenience to patients." There are, however, several other types of over the counter cold medicine that do not contain pseudoephedrine.
It should also be noted that pseudoephedrine was in fact a prescription drug up until 1976. Meth historians like St. Louis' own
Nick Reding
, author of
Methland:
The Death and Life of an American Small Town,
trace the origins of America's meth epidemic back to when the cold medicine became available over the counter.
What's more, the states that have recently enacted pseudoephedrine prescription laws have seen immediate and drastic declines in the number of meth labs in their state. Read
this testimony
from
Oregon Senator Ron Wyden
. Law enforcement in his state discovered 587 meth labs in 2001.
On July 1st, 2006, Oregon became the first state to implement a prescription-only law for obtaining PSE. Immediately, smurfing in Oregon ended and the number of meth labs in the state plummeted. Since the law went into effect, the number of meth labs in Oregon has been 22 in 2007, 21 in 2008, and 10 in 2009. Since 2004, this represents a drop of nearly 98%. That is a staggering level of success.

But what is most remarkable is that this decrease has been achieved at the same time that other states have experienced sharp spikes in the number of meth labs. In 2009, Missouri lead the nation with 1774 labs. It is significant to note that the number of meth labs is also up sharply in the three states that use the state-of-the-art electronic tracking and "stop sales" system to restrict PSE purchases. Quite bluntly, that system is a failure. Oklahoma had 743 meth labs in 2009. Kentucky had 741 labs. And Arkansas had 643. Again, Oregon had only 10.

As of last month, Missouri law enforcement had
unearthed 1,400 meth labs
across the state.

Related content:
How to Solve Missouri's Meth Problem
Missouri on Pace to Lead Nation in Meth Lab Seizures -- Again
The potentially explosive "shake-and-bake" method is burning its way through meth land
Methology 101: Old-school meth labs give way to "shake and bake"