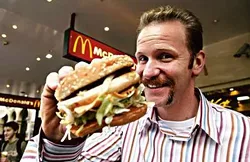 Is that a handlebar 'stache or one half of the McDonald's golden arches?
Morgan Spurlock
will be in St. Louis on Saturday for the American Mustache Institute's annual
'Stache Bash
.
The filmmaker and screenwriter, perhaps best known for
Supersize Me
, is in the running for AMI's Robert Goulet Memorial
Mustached American of the Year
award. This afternoon
Daily RFT
caught up with Spurlock to discuss his plans if crowned the winner and why -- exactly -- he wears that handlebar 'stache of his.
Daily RFT:
So, how did you get nominated for the Robert Goulet award?
Spurlock:
I have no idea. I guess someone nominated my mustache from out in the ether. I was shocked
and
honored.
You face some prickly competitors, including Access Hollywood's Pat O'Brien and actor Brandon Wardell, whose mustache is endorsed by eyebrow queen Brooke Shields.
When you look at it, it's a pretty impressive line up of mustaches. Yeah, you have Pat O'Brien, a mustache icon. And that mustache on
Lou Jacobs
is pretty incredible. Brandon Wardell, though, when you look him up on the Internet, half of his pictures don't have him in a mustache. Still, the Brooke Shields endorsement is big. It's going to be a tough one.
Tell us about your mustache. Why do you wear it and how long have you had it?

It's been around eight years now. It stemmed from a bet. At the time I was working on the MTV show,
I Bet You Will
. During the second season we had a wager among the show's staff on who could grow the best porn 'stache. I didn't win, but the consolation prize was I got the mustache I have today.
Why the handlebar? Is it to counterbalance the smile on your face? Or does it represent one half of the McDonald's golden arches?

Hmm. You know I don't know. Let's say it's to hide an injury. As a child I was kicked in the mouth by a horse, and I wear the mustache to cover up the scar.

If you win, how will you represent mustached Americans over the next year?

I will do my best to make mustaches available to young men across the country by keeping them away from razors and shaving cream. I want to bring mustaches back to the glory days of Tom Selleck (the
Magnum P.I.
version), when all young men dreamed of wearing a mustache.
For tickets and more information about 'Stache Bash, check out the
AMI
.