In this week's print edition, we've rolled out the Riverfront Times' comprehensive list of the best happy hours in St. Louis. (And no, this wasn't only done as a public service to you, dear reader -- we're also promoting the very cool free smart-phone app that includes our fascinating finds.)
In conjunction with the print feature, we've chosen one truly terrific happy hour for each day of the week. So be sure to stop back at Daily RFT as the week continues; we've got three more happy hours to describe in glorious, saliva-inducing detail.

Thursday's Happy Hour of the Day: Lafayette Fire Company No. 1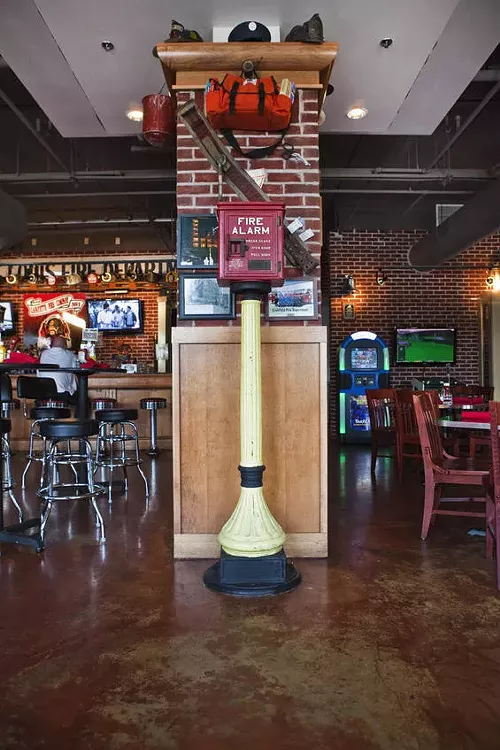 What's the best day to drink at Lafayette Fire Company No. 1? Thursday!
We're not suggesting, for the record, that you bolt halfway through your mom's Thanksgiving masterpiece and head over to Lafayette Square to start boozing. We are merely recommending a happy hour that you should check out next Thursday.
And why Thursday? This firehouse-themed bar has happy hour every weeknight from 3 to 7 p.m., with $1 shots of the day, $2 pricing on most domestic beers and $3 for well drinks. But if you come on Thursdays, the Lafayette Fire Company No. 1 has extra discounts on top of that for members of the police and fire department.
We realize, of course, that you aren't necessarily a cop -- or a firefighter. But have you ever seen some of these guys? Trust us: Many of St. Louis' finest men and women are also damn sexy. Why would you want to spill beer with a pencil-necked geek when you could be drinking with a studly all-American hero?

Monday's happy hour of the day: Herbie's Vintage 72
Tuesday's happy hour of the day: Modesto Tapas Bar & Restaurant
Wednesday's happy hour of the day: The Scottish Arms