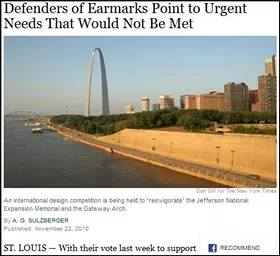 Our state can't get its story straight.
Yesterday,
The New York Times'
unpacked the
debate over earmarks
(are they good or evil?) by focusing on the St. Louis experience.
Here's a quote from our mayor,
Francis Slay
, on Senator
Kit Bond
's love of federal $$$ and how Bond corralled it for reinforced flood control of the Mississippi:
"How can anyone vilify one of our representatives who has gone out and basically forced the federal government to fund a project that is essential to our ability to protect the property and the people of St. Louis from major flooding?"

Well, the
Tea Party
would happily vilify such representatives...wouldn't they?
Recall the campaign message of the recently-reelected Congressman
Russ Carnahan
, that he "Delivers For Us." Here was a guy bragging about bringing home the federal bacon, in a year that Missouri voters supposedly dry-heaved at the sight of federal bacon.
He won. By a slim margin, and in what was supposed to be a safe-Democrat district. But he still won.
Daily RFT
was there that September night down in Arnold when Carnahan debated Tea-Party challenger
Ed Martin
. The crowd in Arnold
adored
Martin. They cheered as he railed against the "out-of-control spending" in Washington, and laughed at incumbent Carnahan.
But there was one moment in particular when that crowd hushed: when Carnahan brought up the federal earmarks he helped secure that made certain Jefferson County highways -- among the most dangerous in the country -- safer. When he mentioned that, the anti-federal-spending crowd didn't laugh. They didn't jeer. In fact, they went silent. They listened.
Maybe it's just us, but it seems some folks hate pork, unless it's roasting in their own kitchen.
Sure, there are some libertarian, ideological purists in this debate -- those who would turn down federal money even for something on their own street. We bet
Bill Hennessy
of the St. Louis Tea Party is one of those.
But now you've got Democrats saying the same thing, such as our very own Senator
Claire McCaskill
. Quoth the
NYT
:
The state's junior senator, Claire McCaskill, a Democrat who is one of the few senators to refuse to seek earmarks, calling them arbitrary and unfair, has been pushing recently to corral Democratic votes for a moratorium.


Wha? Then, Kit Bond -- of the same GOP that rode the Tea Party anger to national victory in the midterms a few weeks ago -- tells the
NYT
it's better for
him
to funnel the money our way than some faceless D.C. bureaucrat-stiff:
"I disclose what I'm going to ask for. I brag about it when I get it. I answer any questions about it. Does a bureaucrat do that with any money they send? No."

Missourians elected both McCaskill and Bond. Maybe we're schizophrenic about earmarks. And since we're a bellwether state, maybe the country is, too.