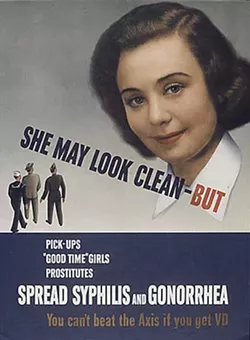 So, yesterday city leaders were quick to rebuke a national study ranking St. Louis as having the
highest crime rate in the nation
.
Today, another study comes out showing St. Louis as having
some of the hightest rates of sexually transmitted diseases
in the nation, and city doesn't question the numbers. They praise them.
"To have [the gonorrhea rate] cut in half in just a few years is just wonderful," St. Louis' health director,
Pamela Rice Walker
, gushes to the
Post-Dispatch
this morning.
Yeah, the gonorrhea rate has dropped in St. Louis, but we still rank No. 12 nationally -- with 1,296 city residents diagnosed with the dreaded STD last year.
And St. Louis ranks even higher with cases of chlamydia. Last year, 1,239 in 100,000 St. Louisans were diagnosed with that STD. Nationwide just one one city -- Philadelphia -- had more per capita cases.
Sure, it's not quite as bad as 2007 when
St. Louis ranked No. 1 in both chlamydia and gonorrhea
, and St. Louis has seen impressive drops -- 55 percent over four years -- in cases of the gonorrhea. But are we supposed to be proud of our new, slightly lower rankings for STDs?
Given the choice of being known as the nation's venereal disease capital or crime capital, I think I'd choose the latter.
P.S. Are you following me on
Twitter
? Well, why the hell not? Oh, and follow
Daily RFT on Facebook
for even more news and discussion.