In this week's print edition, we're rolling out the Riverfront Times' comprehensive list of the best happy hours in St. Louis. (And no, this isn't only being done as a public service to you, dear reader -- we're also promoting the very cool free smart-phone app that includes our fascinating finds.)
In conjunction with the soon-to-be-unveiled print feature, we've chosen one truly terrific happy hour for each day of the week. So be sure to stop back at Daily RFT as the week continues; we've got five more happy hours to go!
Tuesday Happy Hour of the Day: Modesto Tapas Bar & Restaurant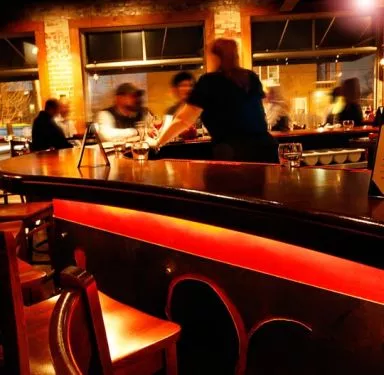 Courtesy of Modesto Tapas Bar & Restaurant
The best day to drink at Modesto? Tuesday!
Happy hour is consistently generous at Modesto; the tapas bar and restaurant in the Hill neighborhood charges just $5 daily cocktail specials, $6 for a glass of the sangria del dia, and $2.50 to $3 for the full line of bottled and draft beers.
But most days, the fun only goes from 5 to 7 p.m. Not so on Tuesday -- on Tuesdays at Modesto, you can enjoy the discounted prices all night long.
And yes, that's a loooong time to be pouring drinks down your gullet, but Modesto does its part to make sure you get some food to soak up the booze. Its happy hour features a roster of single-bite tapas for as little as 25 cents. Again, that special is good every day of the week, but only on Tuesday is it available all night long. Woohoo!
Monday's happy hour of the day: Herbie's Vintage 72