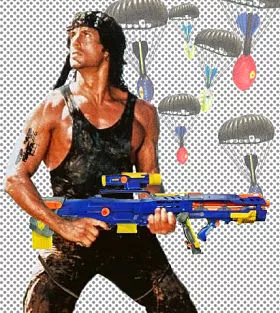 Wash. U. students shoot for a new world record.
Let it not be said that students at Washington University are not overachievers. Over the weekend, recent graduate Priya Sury was named a Rhodes Scholar. Also, 468 current students shot at each other with Nerf guns to set a Guinness world record for the largest toy pistol fight ever. This is Wash. U.'s second Guinness record this year: In May, the graduating seniors banded together to make the world's longest massage chain.
Eat that, Harvard.
The world record was part of DUC In/DUC Out, an evening of hi-jinks at the Danforth University Center last Saturday, November 20. It also included a Rock Band 3 tournament and (this being St. Louis) trivia.
"It was co-sponsored with the class councils," says Nate Ferguson, a senior who works at Danforth and who coordinated the event. "We were brainstormed with them about different things and we thought, how cool would it be to have a Nerf gun battle? And then it got to the point where we thought we could have the world's largest. So we looked into it. It wasn't a record, so we contacted Guinness."
The Guinness world record people were amenable to creating a new category, but its requirements were stringent. At least 250 people had to participate and the battle had to last at least five minutes with at least three meters of no-man's land between the two teams. It had to be supervised by unbiased witnesses and time-keepers. And only toy pistols could be used.
The Danforth Center graciously purchased 500 Nerf pistols for the event and the organizers began looking for impartial witnesses.
"On the list they sent us, one of the witnesses could be an expert in the field," Ferguson says. "Amazingly, we could not find an expert in Nerf gun battle." They settled for a lawyer and a notary.
The night of the battle, freshmen and seniors faced off against sophomores and juniors. Ferguson reasoned that the younger students were more likely to show up than the older ones, and so the teams balanced out nicely.
However, says Ferguson, "there was no winner. It was a non-competitive battle."
Afterward, university police requested that the students return their Nerf guns, just in case someone mistook them for real guns and filed a police report, which would have required them to put out an all-university crime alert. But less than 40 people returned their guns to the special bins put out by Danforth.
"I did not wake up to a crime alert on Sunday morning, so it was all OK," says Ferguson.
Although this is Wash. U.'s second Guinness record within a year, Ferguson does not think it will be overshadowed by the massage chain in May. "That was last year's seniors," he says dismissively. "They're not here anymore. A lot of people didn't know about it anyway. This was something the whole school could rally behind. We had a lot of fun."
Here's some footage of the gun battle, courtesy of the Wash. U. student paper, Student Life: