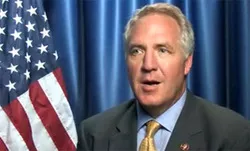 In clowns we trust -- God help us.
Congressman John Shimkus has won his second election of the month.
On November 2 voters in southwestern Illinois elected the Republican from Collinsville to his seventh term in Congress. And, over the weekend,
Daily RFT
voted Shimkus their Ass Clown of the Week.
Shimkus earned the victory for
statements made last week
while defending his stance on global warming, which he sees as little more than a minor inconvenience.
Shimkus is currently vying to chair the House Energy and Commerce Committee that oversees environmental regulation. During a congressional hearing in 2009, Shimkus
quoted Bible verses
suggesting that God would never destroy the Earth and therefore proving climate change is not a concern.
Last week Shimkus said he was quoting the Bible to refute theologians who believe the Bible warns of great peril as a result of global warming. Shimkus also said last week that global warming could be a good thing -- for the
tourism industry in Greenland
.
Shimkus won 33 percent of the Ass Clown vote -- edging out Henrietta Arnold, the St. Louis
police lieutenant accused of arresting a girl
simply because she didn't want the teenager dating her son.
See all last week's Ass Clown candidates
here
and view their election results.