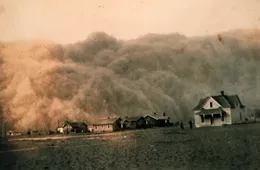 Modern-day Missouri or 1930s Oklahoma? You decide!
Last month was the
fourth driest October on record
for Missouri and the paltry
.14 inches of rain
that passed through here yesterday did little to alleviate the situation.
Now the U.S. Department of Agriculture has declared
28 counties in southern Missouri natural disaster areas
due to the drought. The designation entitles farmers to monetary relief for crop losses.
Meanwhile, the
next opportunity for rain
in these here parts comes on next Tuesday and Wednesday -- and it's only a 50 percent chance.