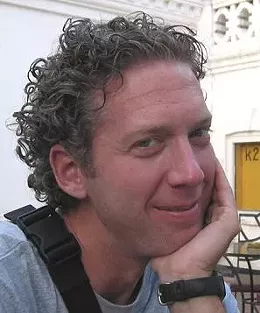 Growing up in St. Louis (elevation 466 feet above sea level), Brad Clement never dreamed that he'd go on to become the cameraman for some of the most daring mountain climbs ever caught on film. But then, that was before the Webster Groves High grad (class of '89) spent a summer working in Alaska's Denali National Park where he fell in love with mountaineering.
Yesterday
Daily RFT
caught up with Clement over coffee to discuss his career and one of his more recent projects --
Everest: A Climb for Peace
-- that is airing on more than 175 PBS affiliates this autumn and plays tonight at 10 p.m. on KETC Channel 9.
Daily RFT:
So, tell us again. How does a flatlander from St. Louis become a high-altitude cameraman?
Clement:
I'd say the impetus came right here in Missouri. When I was a kid we had a farm near Rolla. That place was a huge wilderness for me. It's where I learned to camp and fish and canoe; where I fell in love with the outdoors.
Okay, but the hills of the Ozarks aren't exactly the Himalayas.

True. In college one summer a friend and I worked in Alaska cleaning buses for the park service. That's where I got into mountaineering. It became a real passion. Following college I moved back to St. Louis and sold real estate and spent all my money and free time going to climb mountains. Eventually I became a mountaineering guide. But that doesn't pay much -- barely enough to live on. So I started thinking, "What else could I do?" My mother is photographer. We had a dark room in our home. It's something I've always been around. So, I began filming expeditions and talked myself into a job filming a shoot in Chile. I told the director I didn't know a lot about filming, and he answered, "Perfect. I don't know much about mountain climbing." We taught each other, and I later I formed my own company,
Spindrift Films
.
Who have you shot for since then and where?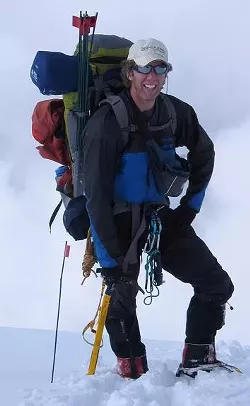 All over the place -- Africa, Himalayas, South America -- and for quite a few companies -- Discovery Channel, Travel Channel, CNN. What I do is something of a niche profession. Though it's funny because my biggest competitor lives just down the street from me in Boulder, Colorado. We're actually pretty good friends.
The film
Everest: A Climb for Peace
has received quite a bit of attention and has Orlando Bloom as its narrator. How did you get involved in that project?
The director, Lance Trumbull, approached me about it and I was immediately interested. I liked the storyline of putting a motley crew together who, for religious and/or political reasons, aren't necessarily friendly and have them put aside their differences to overcome an obstacle. In this case, the biggest in the world: Everest. We had a Hindu from India, atheist from New Zealand, Christians from America and Africa and a Palestinian and two Isrealis. Those last three really became the subjects of the film.

You also came away with more than a paycheck from that job, right?

Yeah. I met my future wife (Tonya Riggs) on the trip. She was cast as the Christian woman from America.
What's the married life like with you off filming mountain expeditions for months at a time?
We make it work. She quit her job in corporate America because of her love of mountain climbing, so she understands. She also comes with me on some climbs. She and I tried to climb Annapurna not too long ago in Nepal. It's the tenth highest in the world but ranked as the deadliest because so few people have attempted to scale it. Suffice to say, we never got close to the summit. It spanked us. But we're going back this spring to try another nearby mountain. This one has never seen an American or a female on top.
Hmm. Sounds kinky!


* Below a trailer from tonight's film on PBS...