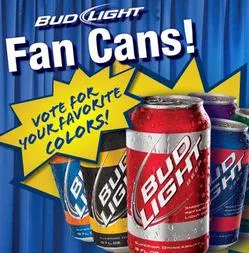 budlight.com
Turns out those real men of marketing genius were onto something after all.
Remember the
Bud Light Fan Cans
? They were Anheuser-Busch's great marketing ploy in the early days of the 2009 college football season. The brewery produced special colorful cans of Bud Light that strangely enough, echoed the school colors of colleges with Division One football teams, including the University of Missouri. The cans were a big hit with students until, unsurprisingly, university administrators -- including Mizzou Chancellor Brady Deaton -- asked A-B to quit selling them because they were encouraging underage drinking.
Turns out the marketing gurus at A-B are, indeed, real men (and women) of genius, though they will deny it. Researchers at Mizzou recently discovered that students who see beer cans in their school colors believe that drinking beer is less dangerous than students who see regular old beer cans. Subconsciously, of course.
"It struck us that [the fan cans] would have some effect on people's perception of drinking in general," says Bruce Bartholow, a professor in Mizzou's department of psychology. "But we weren't sure how it would reveal itself." Bartholow conducted the study along with Chris Loersch, a postdoctoral fellow; they recently published their findings in the Journal of Experimental Social Psychology.
Loersch and Bartholow's study actually consisted of three experiments in which students looked at a row of beverages. Half the rows contained Mizzou fan cans, the other half regular cans of Bud Light. Then researchers asked them a series of questions about how safe it was to drink beer and hang out in the Mizzou community and timed their responses to words indicating safety and danger. They found that the students who looked at the fan cans considered both beer drinking and the local social scene to be less dangerous and responded more quickly to the "safety" words than they did to the "danger" words.
"It makes sense based on how people feel about groups," Bartholow says. "People are more trusting within a group. College students are a salient group. The university is the group identified with the cans -- although the university didn't endorse it. We kept finding that that changes their perception on an automatic, subconscious level, especially with safety-related issues."
Bartholow and Loersch may do a follow-up experiment where they show Mizzou fan cans to students at rival schools like the Universities of Kansas and Illinois and see if black and gold has the opposite effect there.
Ironically, A-B always denied that it was targeting college students with the fan can promotion. They were really aiming for drinking-age fans who would be attending the games. "But," says Bartholow, "you have to wonder why they'd be putting so much money and time into something that wouldn't have an effect on the bottom line. The implication is that if students get the sense that drinking is safer, they are more likely to consume more alcohol and make different decisions when they wonder, 'Gee, do I feel good enough to drive home?'"
Bartholow notes that most college health services have given up on trying to get students to stop drinking and have directed their efforts toward getting them to drink responsibly. "Our findings are more relevant in that context," he says. "Might [the cans] affect the decisions they make for risky, as opposed to less risky, behavior?"