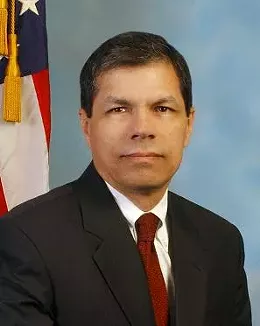 The FBI this morning announced that
Dennis L. Baker
will take over as "special agent in charge" of the agency's St. Louis division.
Baker replaces
Roland Corvington
, who served just 11 months in the position before retiring to take over as the
director of public safety for Saint Louis University
.
Baker has served in the FBI since 1998. He was most recently stationed in Phoenix where he served as a field supervisor.
According to his bio (below) Baker has extensive experience working in the agency's counter-terrorism operations.
FOR IMMEDIATE RELEASE NATIONAL PRESS OFFICE

November 15, 2010

Dennis L. Baker Named Special Agent in Charge of the St. Louis Division

Director Robert S. Mueller, III named Dennis L. Baker special agent in charge of the FBI's St. Louis Division. Mr. Baker most recently served as special assistant to the deputy director, where he provided assistance with policy and administrative matters.

Mr. Baker started his FBI career as a special agent in June 1988. He reported to the Charlotte Division upon completion of training where he investigated violent crime and drug matters.

In 2002, Mr. Baker was promoted as a supervisory special agent in the Counterterrorism Division, International Terrorism Operations Section at FBI Headquarters. He was responsible for supporting, coordinating and overseeing the intelligence collection and investigative efforts of international terrorism investigations.

Mr. Baker transferred to the Phoenix Division in 2004 as a field supervisor. He supervised an international terrorism squad that included members of the Joint Terrorism Task Force (JTTF). Mr. Baker was the international terrorism program coordinator and oversaw the integration of the FBI's Counterterrorism squads with the Arizona Counterterrorism Information Center.

In 2007, Mr. Baker was reassigned to FBIHQ as a team leader in the Inspection Division. In 2008, he was promoted as assistant special agent in charge (ASAC) in the Sacramento Division. As ASAC, he oversaw various programs including international and domestic terrorism, counterintelligence and cyber.

Mr. Baker is a native of Oklahoma, and a graduate of the University of Tulsa. He earned a Bachelor of Arts degree in English and a Juris Doctor, and is a member of the Oklahoma Bar Association. Prior to his FBI career, he served as a police officer for the Tulsa Police Department.