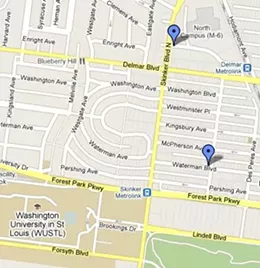 Four people were robbed in two separate muggings last night near the Washington University campus.
The first incident occurred at Rosedale and Skinker near Washington University's north campus. St. Louis police inform
Daily RFT
that two male suspects punched and knocked a 20-year-old male to the ground around 11:45 p.m. The suspects then stole cash and a cell phone from the victim and fled north on Skinker.
Forty minutes later, one male and two female students in their late teens were walking down the 6100 block of Waterman (near Rosedale) when two men exited a car and demanded cash and property. The suspects then struck the male victim in the leg with an unknown object, believed to be a pipe. After robbing the victims, the suspect got back into their vehicle and fled south on Rosedale toward Forest Park Parkway.
The suspects in both robberies are described as black males ranging in age from 18 to 30. Police say it's unclear at this point whether the same suspects committed both robberies. Police also can't confirm that the victims were all students at Washington University, though that's how
KTVI Channel 2
reports it this morning.
Last night's incidents follow a
spate of attacks
earlier this fall in which students were robbed and sexually assaulted at gunpoint near campus. Police later arrested suspect
Jeremiah McMillon
charging him in connection to some of those assaults.