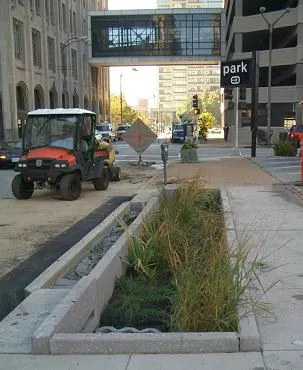 Partnership for Downtown St. Louis
There's a new sliver of green space at the corner of 11th and Pine downtown, and it's green in more ways than one.
A so-called
"rain garden"
, the space captures runoff rain from the nearby pavement and features native plants that -- ideally -- require no watering.
Rain gardens have become something of a fad in cities in recent years, with several such green spots to be unveiled next year following the
renovation of South Grand Avenue
.
Materials and construction for downtown's rain garden was donated by several city agencies and businesses. Look for more rain gardens downtown over the next couple years.