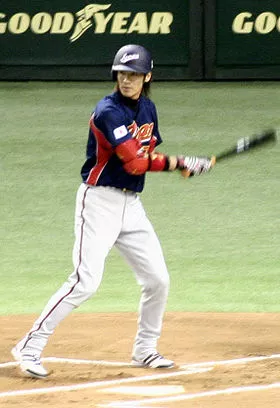 A while back
I wrote about a shortstop playing in the NPB
(Nippon Professional Baseball, the equivalent of our Major Leagues), named
Hiroyuki Nakajima
. One of the top hitters in Japan, he was hoping to be posted by his team, the
Saitama Seibu Lions
, and sign with an American team. To me he seemed like an outstanding option for the
Cardinals
to possibly upgrade their middle infield in a market with virtually no good options available.
Unfortunately (for me, anyway; I'm sure the Lions are perfectly happy to keep their all-star shortstop), Nakajima and his club came to terms on a contract and he was not posted. However, it now appears another Japanese shortstop is on his way to America.
Tsuyoshi Nishioka
, shortstop for the
Chiba Lotte Marines
, will be posted later this week,
according toTim Kurkjian
of ESPN, and could very well be an even bigger prize than what Nakajima would have been.
It isn't a done deal yet, by any means, with the two sides set to meet on the 10th to discuss the posting, but there's enough smoke here to at least consider it might be a fire.
So how, after gushing about how perfect I thought Nakajima would be a perfect fit for the Cardinals, am I going to turn around and say this
other
Japanese shortstop would be an even better option, you ask? Easy. I'm a sportswriter, which gives me magical powers of fickleness far beyond those mortal humans can ever hope to achieve.
Actually, that's not quite true. I still think Nakajima would have been an almost ideal fit for the Cardinals, and I was very disappointed when it was announced he wouldn't be coming to America. Nishioka does have one thing over on Nakajima, though: he's younger.
Whereas Nakajima is 28, Nishioka is only 26. (DOB: 27th July, 1984) Now, two years isn't a huge deal, but a player coming into his age 27 season is more squarely in his prime years than a player coming into his age 29 season. On the downside, while Nakajima has been quite durable during his career, Nishioka has struggled with injuries.
Here's the good stuff about Nishioka: he just won a batting title this past season,
with a .346 average, collecting 206 hits on the season
. That's the most hits in a season by a player in the NPB since a guy named
Ichiro
back in 1994. He's a switch-hitter (and actually looks a lot like Ichiro from the left side), who's hit more than ten home runs three years running and is a gifted basestealer. He's also developed fairly solid plate discipline, walking 79 times in 675 plate appearances in 2010.
As usual, the concerns with Nishioka are much the same as with any Japanese player coming over. Power numbers rarely seem to translate particularly well, so how many homers Nishioka would hit in the US is anybody's guess. As I said earlier, he's also had some injury issues to this point, so his durability has to be a question. He did play in more than 130 games (out of a 144 game schedule), for the first time in his career this past season, so there is some suggestion he may be moving out of that early-career injury nexus, but it's not exactly a guarantee.
While he's a shortstop in Japan, Nishioka would likely slide over to second base in American ball, particularly in the case of a team with a strong defensive shortstop. (read: Brendan Ryan) He's athletic in the field, garnering high praise from most observers on his glovework.
Patrick Newman
, who does a nice job writing about NPB players for
Fangraphs
,
recently posted some of his thoughts on Nishioka
. Newman doesn't like him quite as well as Nakajima, but it isn't a huge gap between the two. As major league comps, Newman offers up players along the lines of
Chone Figgins
or
Ryan Theriot
. While that may not sound all that exciting, remember Nishioka is heading into his prime years. He'd probably be closer to late-20s Figgins than the current older model. Theriot, on the other hand, well, never mind.
So what we have is a speedy, high-average hitter without a whole lot of power but who does seem to know how to draw a walk. He plays a premium defensive position (one the Cardinals badly need help at, in fact), and plays it well. Where Nakajima is an established star as one of the best hitters in Japan, Nishioka is more a player just coming fully into his own as he leaves his mid-twenties. As always, the price will have a lot to do with what kind of value Nishioka ultimately brings to the table, but he's certainly an intriguing option for a team desperate for help in the middle of the diamond.