For all you Central West End residents wondering what, exactly, has been under construction of late at Taylor Avenue between Lindell and Maryland, we've got good news -- it's a park.

Okay, so maybe it's more of a courtyard than a park, but it's still a public space where you'll be able to sit and enjoy the sunshine and, of course, the traffic.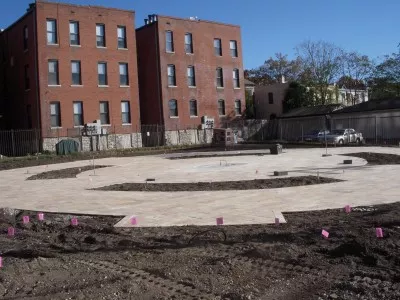 Sarah Fenske
A view of the under-construction park as you stand on Taylor Avenue facing Maryland.
Nicki Dwyer, the blogger behind Nicki's Central West End, uploaded a copy of the design plans a few months ago. As you can see, the idea is to have a wide stone pathway encircling a fountain.

Currently, the stone pathway looks pretty much done. Construction workers have also mapped the site for irrigation, so presumably we'll have grass growing by spring.


Sarah Fenske
Another view of the park at Taylor. You can see the spot for the future fountain in the center.
The site is the spot of the former CWE Dog Park. Apparently, the city obtained development rights as part of the deal that allowed
Barnes Jewish Hospital to take over Hudlin Park
.
That park, which was technically part of Forest Park, but located across Kingshighway Boulevard on the Central West End side, included tennis courts and playground equipment. The CWE Taylor Park, obviously, won't have either.
When Dwyer broke news of the design plans in June, her blog received comments from a number of angry neighbors, who didn't like the preponderance of concrete. "