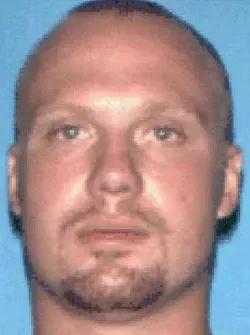 Maylee remains on the loose and could be traveling with a high-powered rifle.
Update:
Joshua William Maylee was
arrested yesterday afternoon
without incident in Cooper County, west of Columbia. He was charged today with murder.
Original story posted Thursday morning...
It's a bit calmer today in mid-Missouri, even though a man wanted for a string of killings remains on the loose.
Fear gripped the campus of University of Missouri yesterday afternoon when the school's hospital sent out a media release announcing it was on "lockdown" without giving any other details. Earlier in the day the hospital had received the lone survivor of a gunman's shooting spree that left three dead. Soon
rumors were spreading via Twitter
that the shooter was wandering Mizzou's campus.
Turns out it was a false alarm.
Joshua William Maylee
remains on the loose
-- believed to be traveling with a high-powered rifle. He's accused of killing Eugene and Jackie Pinet of mid-Missouri and Jeffrey Werdehausen. Werdehausen's wife is in critical condition at the MU hospital.
Meanwhile, police in Columbia are still looking for one last suspect in Saturday's murder of Aaron Hobson.
Hobson was in town from Kansas to watch his cousin Trey Hobson, a member of the Mizzou football team, play against Oklahoma last weekend. Aaron Hobson never made it to the game. Gunmen killed him early Saturday morning during an attempted robbery at a gas station.
Yesterday Columbia police
announced the arrest of brothers Darris and Daron Pea
l for that murder. Daron Peal is believed to be the trigger man. Three accomplices had already been arrested for Hobson's murder. Another man, Anthony Carr, remains on the loose.