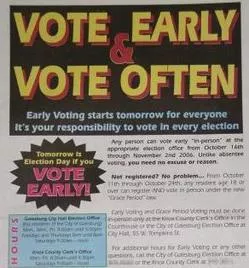 When you go to the polls on Tuesday, here's something to keep in mind: You only get to vote once. And it's still double-voting if you do it in two states. Let the case of Tarrell Campbell be an object lesson to you.
In 2007, Campbell moved from St. Louis to Edwardsville and, like a good citizen, registered to vote in Illinois. The following October, he voted early in the general election. But then on Election Day, November 4, he crossed the river and voted again in St. Louis.
The FBI isn't saying why Campbell voted twice, but the sentence does give a clue to United States District Judge Jean C. Hamilton's state of mind:
In addition to two years of probation, a $250 fine and a $100 assessment, Campbell also has to undergo drug testing and counseling. But perhaps the worst punishment of all: Now that he's a convicted felon, Campbell is no longer allowed to vote.
And no, we still don't know who Campbell voted for. A civics lesson for you all: In the U.S., all ballots are secret and you don't have to tell anyone who you voted for, no matter how much they beg and whine!