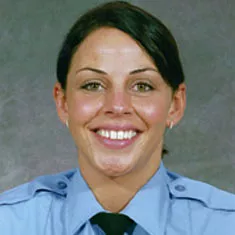 Every year the International Association of Chiefs of Police (IACP) and Parade magazine give out an award for Police Officer of the Year for "exceptional achievement in any police endeavor." (It's fair to say, though, that most of these achievements involve acts of heroism.) Among this year's finalists is Isabella Lovadina, a 28-year-old officer in the St. Louis Police Department.
On October 5, 2009, Lovadina was off-duty and unarmed and standing outside a friend's house when two armed robbers came by. After 20 minutes of arguing, the robbers finally ordered Lovadina and her friends into the basement at gunpoint.
"I don't want to say I wasn't scared," Lovadina told Parade, "but I was focused on getting everybody else out of that situation. I tried to remain calm. The threats were getting worse by the minute. I knew they didn't have a plan. Then they wanted [my friend] Gina to go down in the basement and I thought they were going to rape her and kill her, and what if the little boys come up? I thought it's now or never, we're going down anyway. I'm going (to be killed) but maybe I can prevent it for the others."
She made a lunge at one of the robbers' guns.
The gun went off, and Lovadina was hit five times. The second robber attempted to help the first: he shot Lovadina and two of her friends, but he also hit his accomplice in the hand (he'd been aiming for Lovadina), which got them to leave and eventually proved useful in identifying them as criminals when they went to a hospital for treatment.
Because, despite being shot multiple times, Lovadina was lucid enough when the police arrived to give a full description of the robbers.
The story does not have an entirely happy ending. Lovadina's friend Gina was killed. Lovadina herself suffered severe damage to her arm -- a bullet severed an artery and a nerve -- and is still, a year later, on limited duty at the police department. She's considering going back to school.
Lovadina was honored at the IACP annual conference this past weekend in Orlando.