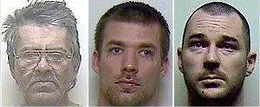 Left to right: Sarmiento, McCleary, Baudour
A manhunt is underway in northwest Missouri for three inmates on the run from the Daviess/DeKalb County Regional Jail in Pattonsburg.
According to reports
, the inmates crawled under a fence at the prison around 8 p.m. yesterday. The three men are Carlos Sarmiento, Nicholas McCleary and Timothy Baudour. All three men have some rather identifiable tattoos.
Okay, the swastika and teardrops are scary. Tigger, not so much.
The 57-year-old Sarmiento, convicted in 2009 of killing a man with a hammer, wears a cross tattoo on his upper right chest, Spanish words on his right arm, and a lady in a sombrero on his upper left arm.



McCleary, 26, has a swastika tattoo and a skull on his chest, a tear drop tat below his right eye, two lightning bolts under his left eye and a maltese cross on on his left hand.



Baudour, 34, sports a "Midwest Hustler" tattoo on his stomach, a map of Mexico on his upper chest and a tattoo of the cartoon character Tigger on his right arm.