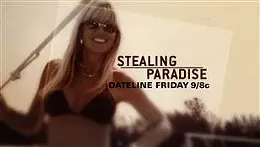 Friends recall Cher Hughes as a loving, free-spirit.
Remember the story of Cher (Cheryl) Hughes -- the St. Louis woman whose
body was found lying in a shallow grave
in Panama earlier this year?
Hughes had moved to Bocas del Toro, a small island off the coast of Panama, a decade ago with her boyfriend Keith Worle. The couple eventually married, but was separated this spring when Hughes went missing.
During her disappearance, Worle and friends continued to get bizarre text messages from Hughes saying that she was okay and had run off with another man. Meanwhile, William Holbert -- aka "Wild Bill" -- another ex-pat living in Bocas del Toro had moved into Hughes' home and said that she'd sold him the property before her disappearance.
What no one knew at the time was that Holbert was a con-man and criminal fleeing justice in the U.S. (even appearing on the show America's Most Wanted).
On Friday, Dateline did an admirable job chronicling Hughes murder from on location in Panama. Check out the video below.
See the rest of the story at
Dateline
.