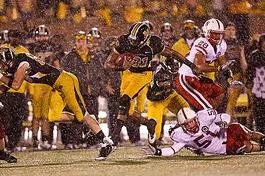 Mizzou lost a heartbreaker last October when Nebraska (and a monsoon) visited Faurot Field.
The early line on Saturday's face off between
No. 1 Oklahoma and No. 11 Missouri
favors the
Sooners by a field goal
. The over-under on the game is 53 points.
At first glance, I thought the bookies were being a bit kind to underdog Missouri. Don't get me wrong, I want Mizzou to beat the living snot out of Oklahoma on Saturday. I just wasn't sure the odds-makers checked the weather forecast before determining the spread.
The National Weather Service is calling for a
60 percent chance of thunderstorms
Saturday in Columbia. Rain (and wind gusts of 20-30 m.p.h.) don't do much for Mizzou's passing attack.
If forced to keep the ball on the ground, the Tigers rank a dismal
84th in rushing
among BCS teams, with 131 yards per game on the carry. That said, Sooners aren't a whole lot better -- ranking No. 55 among BCS teams with an average of 155 yards. Like Missouri, Sooners also feast on the passing game, averaging 303 yards per game in the air compared to the Tigers' 282.
Offensively, then, Oklahoma holds a slight advantage over Missouri. Here, though, is what the bookies must have seen. A sloppy, wet game favors the team with the best defense. On paper, Mizzou is that team. It ranks 29th in the nation in yards allowed per game (329), second best in points allowed (10.8) and No. 1 in red-zone defense. Oklahoma, by comparison, ranks 71st in yards allowed (373.5) and allows 19 points per game. Granted, Oklahoma has also played a tougher schedule than Missouri.
So, put it all together in a simple formula (rushing yards divided by total defense minus strength of schedule multiplied by the percentage chance of thunderstorms) and voila!
You arrive at Sooners by three. Let's hope there's a flaw in that forecast.