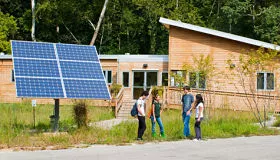 It's alive!!! Sorry, it's just a Living Building.
The Living Learning Center at Washington University's Tyson Research Center has just been designated one of the first the first two Living Buildings by the International Living Building Institute (ILBI), the most rigorous green building standard in the world. (The other's in Rhinebeck, New York.)
In order to qualify as a Living Building, a structure must generate its own energy, capture its own water, incorporate only nontoxic and responsibly-sourced materials and operate efficiently for at least one full year.
Designed by Daniel Hellmuth of Hellmuth + Bicknese Architects, the building went up on top of what used to be an asphalt parking lot and was build from cedar chopped down within two miles of building and furnished with materials salvaged from around St. Louis, including lights from an old school and doors from other buildings at Wash. U.
The building's energy comes from a series of solar panels on the roof; to supplement this, Tyson borrows energy from the Ameren UE grid and then pays it back when it has a surplus to achieve net-zero energy usage. All the water, used for drinking and watering the landscaping, comes from rain that's collected in a 3,000-gallon barrel and purified in the basement.
Nestled in the woods near Eureka, the Tyson Research Center specializes in applied ecology. The Living Learning Center contains Tyson's administrative offices, classrooms and a computer lab.
Naturally, the university is extremely proud. It already has had nine buildings certified by Leadership in Energy & Environmental Design (LEED), but a Living Building is environmentalism on a whole new level.
"I think the fact that we attempted no shortcuts and were so quick to respond to performance issues played a big role in our successful certification bid," Kevin G. Smith, Tyson's associate director said in a press release. "Washington University's support at all levels is what made this possible."