Okay, okay. We get it. We're all obsessed with where we rank, even if the data that fuels these most/best/worst cities' lists is contrived at best and completely unreliable at worst. So we can't blame Forbes for riding the trend with its newly-released
"Most Dangerous Cities" list
.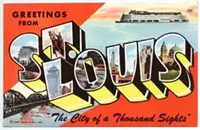 Nope. Doesn't look dangerous to us.
And yet ... Kansas City, Missouri, is number three on the list?
St. Louis is number two????
And both Missouri cities are supposedly worse than blighted Detroit, Michigan, which somehow clocks in at number four -- while bucolic Tulsa comes in fifth and nice little Indianapolis eighth?
Forbes
, we cry bullshit.
We've been to Detroit. Heck, we've been to Kansas City and Indianapolis, and we were bored out of our minds: Those towns feel pretty far away from anything resembling danger.
So how did this happen?
As
Forbes
' Francesca Levy explains in a post today, the magazine compiled the list by combining FBI stats on the number of violent crimes reported per 100,000 residents with the number of traffic fatalities per the same 100,000.
Interestingly, only cities with a population of more than 250,000 were included (which means, of course, Gary, Indiana, and East St. Louis, Illinois, are off the hook).
And here's another important catch. As Levy acknowledges, the magazine had to throw out cities where they had "incomplete data" -- so both Chicago and Las Vegas were also off the hook. (And, having also been to Chicago and Las Vegas, we can state emphatically that they're no Indianapolis. Meaning, they might be in a bit of trouble danger-wise.)
More to the point, as Levy admits, the FBI consistently and routinely warns people not to extrapolate much of anything from its crime stats: You simply can't use them to compare apples to apples.
Kara Bowlin, press secretary to St. Louis Mayor Francis Slay shares our -- and the FBI's -- skepticism.
"'Violent crimes combined with fatal car crashes' seems like a questionable way to conduct this 'study,' but I guess all that matters here is number of hits they get on their website," she emailed us, adding, "Safety, anywhere, is what you make of it. Be aware of your surroundings. Use good common sense. Don't put yourself in 'dangerous' situations. And, to get St. Louis off of this list, you might want to hang up and drive."
Bowlin also notes that, for the record, not one of St. Louis' neighborhoods made a recent list of
"25 Most Dangerous Neighborhoods"
-- which appeared to be a far more statistically precise list. (Chicago, for the record, had three neighborhoods that made that list, as did Las Vegas; Atlanta, which didn't even make an appearance on
Forbes
' Most Dangerous Cities list, led the way with four dangerous 'hoods.)
Finally, a Very Important Point to Make.
Forbes' so-called
"safest city" is Plano, Texas
. Plano!
If that's safety, we'll take danger.