Congresswoman JoAnn Emerson of Cape Girardeau debated her Democratic challenger, Tommy Sowers, last night. And Charlie Dooley, the St. Louis County Executive, is debating his challenger, Republican Bill Corrigan, Thursday.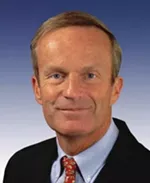 Todd Akin gives the League of Women Voters the runaround.
But
Congressman Todd Akin
is refusing to come to the table to face his challengers,
Democrat Arthur "Don't-nate" Lieber
and Libertarian Steve Mosbacher. The
League of Women Voters of Missour
i is sponsoring a candidate debate for the race -- but confirmed to Daily
RFT
that despite repeated attempts, they've failed to make any traction with Akin.
The League says that -- other than dueling U.S. Senate candidates Roy Blunt and Robin Carnahan -- Akin, a Republican, is the only local major-party candidate not on board for their debates this election cycle.
And Blunt and Carnahan have a good excuse: Their race is hot enough that they've been slated to debate on public television, which will surely have an even bigger viewership than the League's efforts.
Just exactly where things stand with Akin are a teensy bit confusing. The
St. Louis Beacon reports today that Akin's camp will not be attending
the League's debate, now scheduled for October 22 with Lieber and Mosbacher.
But a League staffer told Daily
RFT
that the League hasn't heard a definitive "no" from Akin -- describing something that (to this journalist, at least) sounded more like silence/run-around -- and hasn't given up yet. They're hoping to use every connection they have to get the incumbent congressman on board.
Reached by telephone this morning, Akin's spokesman, Steve Taylor, doesn't sound particularly interested.
"We do not have it on our schedule," Taylor says, adding, "I haven't discussed it with him directly." So would Taylor be discussing with the congressman? "There's probably a scheduling conflict regarding that debate," Taylor says. "It's not on the schedule."
To us, that suggests Akin is the lone local incumbent in this election cycle who's refusing to have a single debate with his challengers. Taylor wouldn't agree.
"Congressman Akin has written a variety of parallel essays/editorial opinions with Mr. Lieber for the
Beacon
," he says. "There has been a sharing of opinions and a voter's forum between Akin and Lieber."
A series of blogs serving as a voter's forum? That might be going a little bit far. But not to Akin's team, apparently.
"He has debated with written parallel editorials in the
Beacon
," Taylor insists.
In other words, the League of Women Voters better not count on a face-to-face meeting between candidates any time soon. And as for the voters in the second congressional district ... you'd better enjoy reading policy papers online. That may be all the "debate" you get this year.