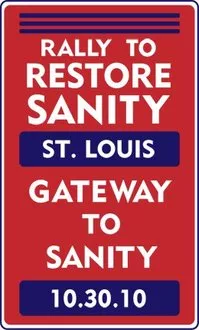 Why should those jerks in Washington, D.C. get to have all the fun? How come they get to write all those witty signs--"putting the 'dumb' into 'freedom'"? How come we don't get to go to the Jon Stewart and Stephen Colbert-hosted
Rally to Restore Sanity
and
March to Keep Fear Alive
?
Why don't we...hold our own satellite rally?
Oh, yes.
A satellite rally is in the works for Oct. 30, on the steps in front of the Arch, from 11 a.m. to 4 p.m.
On
their site
, the rally's organizers advertise their event as "a rally for people who've been too busy to go to rallies...not so much the Silent Majority as the Busy Majority."
More than 100 people have RSVP'd "yes" on the rally's
Facebook event page
, and organizers are still looking for volunteers. Also on the Facebook page: Hilariously earnest comments, like this one from Mary Troy.
"I said Might for I do not know what this is. The name can be anything. Even the tea party has a nice name. So I need more info."