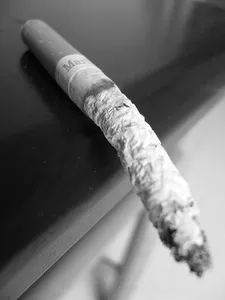 About 23 percent of Missouri's adults still proudly identify as smokers, according to a new report by Washington University's Center for Tobacco Policy Research (CTPR). That means our state has one of the highest population of smokers in the country.
Of all those unrepentant smokers, nearly 50 percent are on Medicaid while another 40 percent are uninsured, 40 percent have a high school education, 45 percent identify as bisexual and another 38 percent say they are gay or lesbian. (It's unclear if the insurance or sexual orientation categories overlap.)
But there is hope! Of those smokers only 20.7 percent don't think they have the willpower to quit. That number rises to 34 percent among Medicare recipients which may or may not prove something to opponents of government-run health programs.
The data comes from a 2007 county-level study of nearly 50,000 Missourians by the Missouri Department of Health and Senior Services. Now that members of the CTPR know which demographics are most likely to smoke, they plan to borrow a strategy from advertisers and target those groups with anti-smoking messages.
"Addressing these groups as part of our comprehensive tobacco control efforts in Missouri will help reduce the overall burden from tobacco use, making Missouri a healthier place," said Douglas Luke, director of the CTPR, in a press release.
Among those efforts:
Implement comprehensive, population-level tobacco control policies such as increasing the tobacco excise tax and mandating 100 percent clean indoor air policies.
Address the need for affordable, accessible and relevant cessation services, particularly for those groups disproportionately affected by tobacco use.
Tailor health messages to make sure they are culturally relevant and easily understood by targeted groups.
Continue assessing tobacco-related behaviors across the state and make improvements to future statewide surveys as needed.
Yep, that oughta do it.