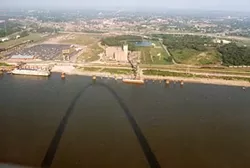 Admit it. This view could use improvement.
That's what Illinois Gov. Pat Quinn suggested during a stop in Granite City. Speaking to
KMOX
, the governor said of metro East residents: "The way they support the Cardinals baseball team is a good indicator in how strong of a fan base there is, we'll see what happens."
Speaking of the Cardinals, St. Louisans long in the tooth will remember how the Redbirds flirted with moving across the river back in the early 2000s as the team sought public financing for the new Busch Stadium.
Now, was it ever a legitimate threat that the Cardinals would move to Illinois? No, not really. And the same is probably true today with the Rams. That said, would it be so bad if they did move to East St. Louis? A new stadium would at least give you something to look at (other other than a casino and grain silos) when on the St. Louis riverfront.