UPDATED AT 5:45 p.m. with a comment from the group
Missourians for the Protection of Dogs
, the group hoping to convince Missouri voters to ban puppy mills, got a huge financial boost in the last month -- with a staggering $795,000 collected from out-of-town donors and advocacy groups in August and the first week of September alone.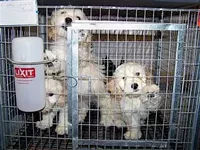 Out of town money is pouring in to fight puppy mills.
That includes $500,000 from the Humane Society of the United States and $200,000 from the ASPCA. But it also includes a dozen checks for $5,000 and $10,000 apiece from (presumably) wealthy donors in New York City; Beverly Hills, California; and Connecticut.
Among them?
Peter Max
, the psychedelic 60s pop artist, who chipped in $10,000 along with his wife Mary, financial records show.
Those donations bring the group's receipts to date to well over $1.5 million.
The fundraising success of the Yes on Prop B! group stands in stark contrast to the local breeders who are hoping to head off the ballot proposition. The
breeders' political action committee
reported just $61,288 in donations at the time of the last mandated filing with the state ethics commission, in July; since then, it's reported no donations of greater than $5,000. Considering that the group had just $7,000 on hand by July and the financial discrepancy is even starker.
As
we predicted back in August
, the breeders might be in big trouble. They spent much of their money on lawyers, attempting to convince a Cole County judge to strike the proposition from the ballot. That effort failed, so their only choice now is to argue their case to voters -- which is clearly not going to be easy with such a gross financial disadvantage.
UPDATE: We just heard from the Missourians for the Protection of Dogs/Yes on Prop B! team. In an email, they write,

The YES! on Prop B Campaign has already received more than 1600 donations from Missouri residents who want to turn around our state's reputation as the 'Puppy Mill Capital of America.' We are confident that Missourians from every corner of the state will help us communicate our positive message to voters for the humane treatment of dogs.