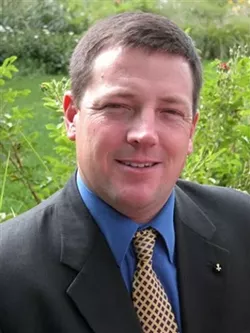 Ed Martin: All about transparency
So, let's get this straight. Back in 2007 political reporter Tony Messenger (then with the
Springfield News-Leader
)
exposed how Ed Martin was deleting political emails
sent from his government computer as chief of staff for Gov.
Matt Blunt
.
Blunt told Messenger that there was nothing wrong with this practice. Allegations then surfaced that Blunt's staff routinely destroyed emails that should have been made part of the public record. When the attorney general's office began investigating the governor's staff for violating state Sunshine Laws, the administration threw up a roadblock:
demanding $540,000
to unearth thousands of documents kept from the public.
Meanwhile, one of Blunt's staffers who dared to question the administration's policy on email was fired but not before Blunt's office slandered him in the press, saying he was dismissed for viewing Internet porn while at work.
The mud didn't stick as well as Martin and his boss wanted it to, and Martin was ultimately
forced to resign
when the email scandal continued to land on the front pages. The fired staffer --
Scott Eckersley
-- later sued Blunt, Martin and other members of the governor's office for wrongful termination -- a whistleblower lawsuit that
cost Missourians $1.3 million to defend
in addition to another $500,000 paid to Eckersley as part of a settlement.
Okay, so now that you're caught up, let's consider the claim Martin -- the Tea Party/Republican candidate for Congress -- is now making against incumbent Congressman
Russ Carnahan
.
Last week Martin
sent a fax
to Carnahan demanding that he release all his emails, calendar appointments and expenditures for the past 20 months. In a
dispatch on his website
, Martin explains that he's now all about "transparency" in government and suggests that Carnahan -- not he -- destroys emails.
Yesterday, Carnahan's office
responded in a letter
explaining that the financial information Martin seeks is already available online. As for emails with constituents, they're not a matter of public record -- per House Ethics rules -- though his staff is willing to assist Martin as best it can.
But the best part of the letter comes at the end when Carnahan's chief-of-staff
Caroline Battles
(great name, btw) chides Martin like an ignorant schoolboy.