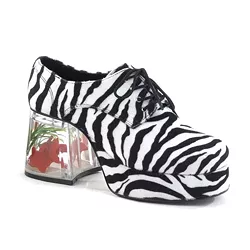 Hand over pimp shoes, go directly to jail.
What a race! By a slim
three percentage points
Daily RFT
readers this weekend voted
Latasha Jewell McFarland
as Ass Clown of the Week.
McFarland earned the title after
admitting last week in court
that she forced a 13-year-old runaway into prostitution -- purchasing condoms for the girl and arranging paid sexual rendezvous for her at area motels. McFarland captured nearly 45 percent of the vote.
Second place with a little more than 41 percent off all votes cast went to
Anthony Minor
-- the recently released prisoner who killed his girlfriend and injured himself and their two children when he allegedly
stole laundry detergent
from a Family Dollar and then crashed his car after police arrived on the scene.
Check out last week's other Ass Clown nominees and view their vote totals
here
.