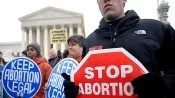 In the 2010 legislative session, Missouri, along with several other states, passed new laws placing major barriers between women and their
Constitutional right to obtain abortions.
The
Center for Reproductive Rights
, a New York-based pro-choice legal advocacy group, Tuesday released a
report
on the most onerous of the new laws. Missouri had a starring role on that dishonor roll.
Among the
new restrictions
:
-Women seeking abortions must be counseled in person at least 24 hours before undergoing the procedure, requiring two trips to their provider. Counseling includes giving them the opportunity to see a fetal ultrasound and hear the fetal heart-tone.
-Abortion providers are forced to give women a packet of information including the phrase: "The life of each human being begins at conception. Abortion will terminate the life of a separate, unique, living human being."
-Providers have to prominently display the statement: "There are public and private agencies willing and able to help you carry your child to term, and to assist you and your child after your child is born, whether you choose to keep your child or place him or her for adoption. The state of Missouri encourages you to contact those agencies before making a final decision about abortion."
-In the state of Missouri, after the federally-mandated state exchanges for insurance are created by 2014, abortions are prohibited from being covered.
So, to recap, the state of Missouri has determined that women show up at abortion providers without having thought through their decision, don't realize that adoption is an option, and can't use their insurance to cover a common medical procedure they have a Constitutional right to obtain.