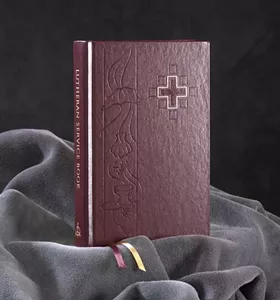 Never underestimate the selling power of a Good Book.
Perhaps Daily RFT's new favorite Tweeter, the world-domination-seeking Emperor Franzen, should take a page from Benton Park's Concordia Publishing House. Since it launched its Hymnal in Every Home campaign four years ago, Concordia has sold more than one million copies of The Lutheran Service Book. A quarter of those sold before the book was even printed. And it didn't even make the cover of Time!
Though it's true The Lutheran Service Book, designed to be used every Sunday, has greater shelf longevity than Freedom. Franzen may craft exquisite sentences, but how many times can you re-read a book with a plot once you know how it all turns out?
Or, as the Rev. Paul McCain, Concordia's publisher, puts it: ""People need a way to give voice to their faith. There are three core books that can do that: the Bible, the hymnal, and the catechism." (Yeah, that's what we meant.)
The Lutheran Service Book had the additional advantage of being adopted by the Lutheran Church -- Missouri Synod, which has a vast network of churches and schools across the country, most of which bought the hymnal in bulk. (When calculating sales totals, the publisher does not distinguish between the Pew, Personal/Gift and Deluxe Editions.)
The millionth copy, however, was a rare one-off purchase by Gary Benedix, pastor of the tiny Hope Lutheran Church in Jackpot, Nevada. (Yes, really.) Benedix only sees between four and twenty-five worshipers on any given Sunday. He bought the hymnal as a gift for his one and only confirmation student.
What followed was sort of like the part in Up in the Air when George Clooney gets his ten-millionth frequent-flier mile. Though Concordia's staff passed up the opportunity to visit Jackpot (only the Lord knows why), the president and CEO, Bruce G. Kintz, did give Benedix a call. Concordia also sent Hope Lutheran thirty free copies of the hymnal, which pretty much insures that it will be the church's official prayerbook from now on.