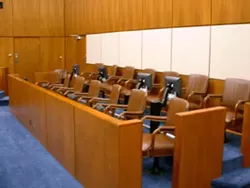 That's more or less the question being asked to 6,000 St. Louis residents who've recently received letters from the St. Louis Circuit Court regarding what could be the longest trial in city history.
The note ask such questions as: What's the most amount of time you can take off from work?
The court isn't saying what the court case in question involves. But as
Fox 2 suggests
, it's likely a trial slated for January in which dozens of Missouri hospitals have sued the tobacco industry.