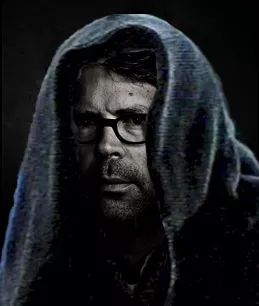 Last week,
Daily RFT reported on literary feud
in which the authors Jodi Picoult and Jennifer Weiner joined forces to fight the white male literary Establishment, impersonated by Jonathan Franzen whose new book
Freedom
, in a single week, received not one, but two rave reviews from the
New York Times
. Neither Picoult nor Weiner has ever received a positive review from the
Times
, despite their many, many publications. Within days, a new term entered the Twitter hashtag lexicon:
Franzenfreude
.
Franzen himself remained notably silent in the midst of this controversy, possibly because he didn't want to risk a rerun of his 2001 war with Oprah. But a Twitterer has decided to speak for him: Emperor Franzen.
Like Ruth Bourdain, the Emperor started as a spoof. But over the past few days, as the Freedom hype built (and the book itself went into a second printing, even though it's not even on sale till tomorrow) he has developed a life of his own. After a few days, even Weiner conceded defeat: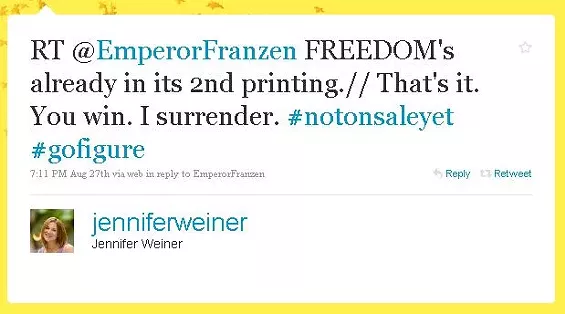 And now it seems
Daily RFT
has inadvertently helped him in his quest for world domination.
On Saturday the Emperor teamed up with another literary parodist, Evil Wylie (self described as "a struggling, anonymous midlist author" who has "quickly surpassed the real Andrew Wylie [a literary agent] in evilness") on a comic book, Emperor Franzen vs. Jennifer Weiner.
Emperor Franzen vs Jennifer Weiner Episode 1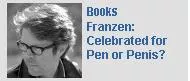 Dedicated readers of
Daily RFT
may notice that the tagline looks hauntingly familiar:
But success has not gone entirely to the Emperor's head: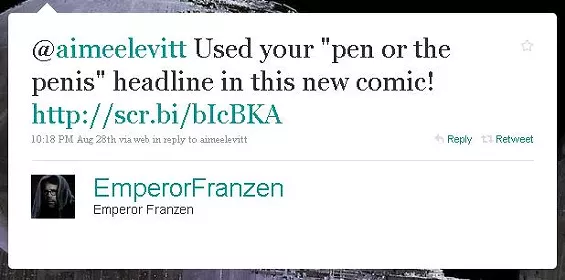 We are not worthy!