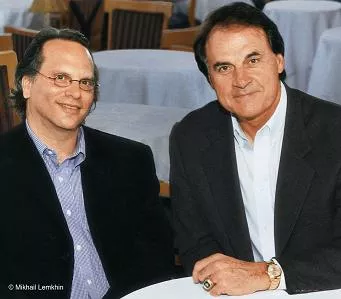 hmhbooks.com
Bissinger and La Russa in happier times.
So, you think
you
have strong feelings about
Albert Pujols
and
Tony La Russa
attending a Glenn Beck rally
this past weekend at the Lincoln Memorial?
You've got nothing on
Friday Night Lights
author
Buzz Bissinger
. Trust me.
Bissinger and La Russa were once buddies. Bissinger even wrote a book about La Russa called
Three Nights in August.
Today they're no longer friends, and for the past several days Bissinger has been bashing TLR and Pujols mercilessly on
his Twitter feed
.
Call it a bad case of twittarrhea, but it does makes for some entertaining reading with Bissinger comparing Beck to Hitler, mocking Pujols' spirituality and saying that La Russa needs to retire.
Among some of the highlights...