Jonathan Franzen's new book, Freedom, isn't out until Tuesday, but he's already pissed off some pretty prominent women in literary circles. This time, however, it's not Oprah. And he hasn't really done much besides exist and be the recipient of a rave review in the New York Times from another powerful literary woman, chief book critic Michiko Kakutani.
The women in question are novelists Jodi Picoult and Jennifer Weiner. Both are far more prolific than Franzen. Both sell far, far more books. Neither have been reviewed as extensively in the New York Times (though Picoult has been profiled) or as favorably. Last Monday, August 15, when Kakutani's review went live, Picoult Tweeted: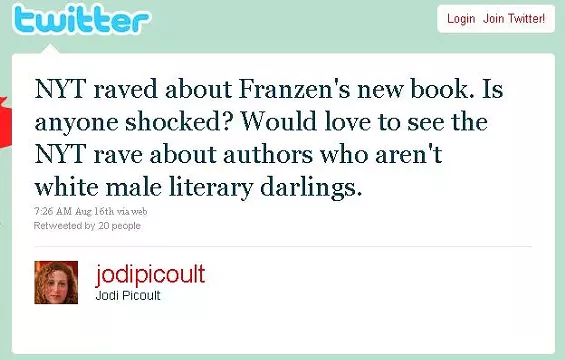 To be fair, Kakutani wrote a pretty withering
review of Franzen's last effort, The Discomfort Zone: A Personal History
. (She called it "an odious self-portrait of the artist as a young jackass.") But how can a mere essay collection compare in importance to what is already being anointed a Great American Novel? And please remember that mere mortals haven't even been able to get their hands on it yet!
Nobody has ever tried to anoint any of Picoult or Weiner's books as a Great American Novel. So naturally, some accused Picoult of sour grapes.
Other woman writers, though, notably Weiner, leaped to Picoult's defense.
Within days, or maybe even hours, the controversy got its own hashtag on Twitter, #franzenfreude. (Is this the clearest way of marking the significance of an event in our crazy modern world? Discuss.)
Over at the Atlantic, Chris Jackson rehashed the controversy and then, at the request of a friend, tried to think of the last novel he'd read that was written by a woman.
And I honestly couldn't come up with anything for a few minutes. It was a pretty shameful moment, in part, because I started wondering about early onset memory loss (I eventually remembered that I'd recently read the luminous and terribly titled Reasons for and Advantages of Breathing by Lydia Peele), but also because I've spent a lot of time advocating the reading of books outside of the reader's direct experience as a way of understanding the world (through the Ringshout organization, for instance) and apparently I've been ignoring the literary output of half the human population.
On the blog the nytpicker, Julianne Balmain provided empirical evidence that Picoult's assertions might be true. Balmain, who writes mysteries under the name Nadia Gordon, belongs to an organization of female mystery writers called Sisters in Crime, which has, for the past three years, been monitoring the number of reviews of mysteries by women by women. Although in 2009, half of all mystery novels had been written by women, approximately two-thirds of the reviews in the New York Times and other publications were of books written by men. Strangely, no one has done a similar study of "literary" fiction.
It has also been observed, most notably by the mystery writer Laura Lippman, that women -- particularly middle-aged women -- are the primary book-buyers in this country. Lippman added:
Although women dominate fiction as consumers/readers, there is a genre known as "women's fiction," yet no correlating genre known as "men's fiction." True, there was an attempt to brand some books as "lad lit," but that was about as successful as trying to make "fetch" happen.
She concluded, "All fiction is women's fiction. Women's fiction is redundant. At the launch for my new book last week, I had an audience of 130 people and 120 of them were women. 'Isn't that weird?' someone asked. I said: 'I think it's wonderful.'"
Now that the media blitz is officially underway -- yesterday morning, Huffington Post published an "exclusive" conversation with Picoult and Weiner and today Weiner will appear on NPR -- the two writers tempered their comments somewhat.
"I don't write literary fiction," Weiner admitted to the Huff Po.
I write books that are entertaining, but are also, I hope, well-constructed and thoughtful and funny and have things to say about men and women and families and children and life in America today. Do I think I should be getting all of the attention that Jonathan "Genius" Franzen gets? Nope. Would I like to be taken at least as seriously as a Jonathan Tropper or a Nick Hornby? Absolutely.
Picoult added,
I want to make it clear that I have absolutely nothing against Jonathan Franzen. I hope I read ("Freedom") and love it. None of this was motivated as a critique against him or his work, just that he is someone the Times has chosen to review twice in seven days.
Franzen, meanwhile, has been notably silent in the midst of all this controversy. However, an alter-ego from Bizarro World named Emperor Franzen (who bears a strange resemblance to Darth Vadar but claims in his bio, "Chicks dig me. I was on the cover of TIME. That's TIME magazine, bitches. ALSO: NO I AM NOT THE REAL J. FRANZEN. HE DOESN'T EVEN OWN A CLOAK.") started up a Twitter feed of his own. A spirited Twitter war between the Emperor and Weiner commenced.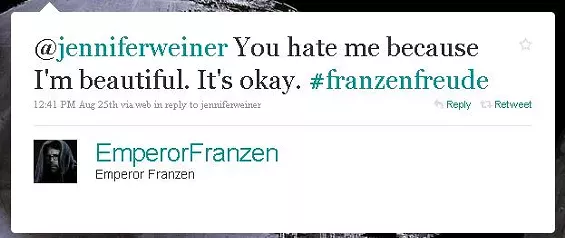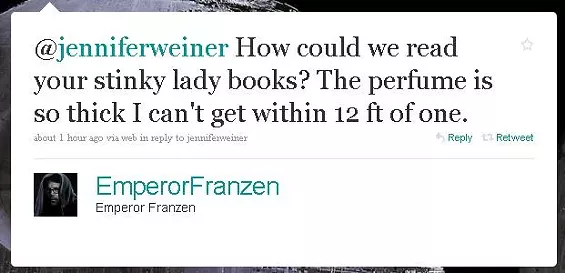 It could be argued, though, that Weiner is getting her share of coverage in the New York Times: Although it hasn't been reviewed, her latest book, Fly Away Home, ranks tenth on the bestseller list.
On the other hand, Freedom isn't even out yet, and it's already sixth in Amazon's rankings while Fly Away Home languishes at 32. Number one, by the way, is Mockingjay, by Suzanne Collins. Yep, a girl.