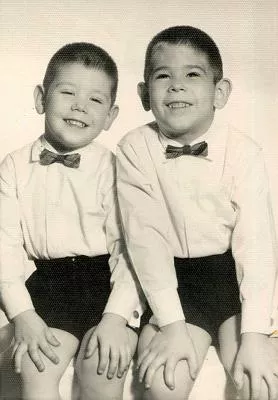 The Blagojevich brothers in 1960.
If you think Rod Blagojevich is annoying now, just imagine how he must have been as a child. Now imagine having him for your little brother. By that criterion, Robert Blagojevich should be up for sainthood.
Well, Rob is finally getting his just reward. When his sibling has to go back to court for another trial, Rob will get to sit back and watch it with everyone else. Assistant U.S. Atty. Reid Schar announced today that the government, "in the interests of justice," is dropping two counts of extortion conspiracy and one count each of wire fraud and extortion against Rob Blagojevich.
The charges were dismissed, said Schar, because of "the disparity in the roles" of the two brothers, which pretty much tallies with Rob's claims that he was always more of a bystander to Rod's antics than a co-conspirator. Officially, he had served for four months in 2008 as head of fundraising for the Friends of Blagojevich campaign.
Rod, meanwhile, will be retried on 23 counts. Judge James Zader, who presided over the first trial, told the Chicago Tribune that the retrial would commence the first week of 2011.
Michael Ettinger, Rob Blagojevich's attorney, gave the client the news this morning. According to the Associated Press, Ettinger told the former gubernatorial brother, "You're free." Rob yelled, "Oh my god, you're kidding!" His wife, Julie, broke down in tears of relief. His son, Alex, offered to take him out for a celebratory steak dinner (and maybe even pay, Rob added hopefully).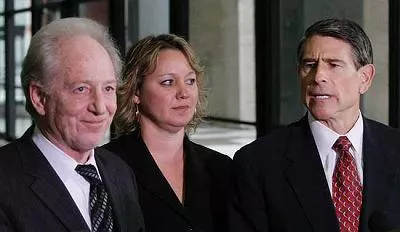 Robert Blagojevich, right, and his attorneys Michael Ettinger and Cheryl Schroeder after his arraignment in April, 2009.
Even before the charges against Rob were dismissed, Ettinger said, relations between the Blago brothers had been "strained."
"Robert and Rod need to patch things up," he told the Tribune. "The relationship is obviously strained, but Robert loves him...They will make up and have a relationship again."
Good news, guys. Thanksgiving is still three months away. You've got plenty of time.