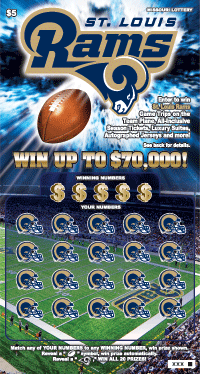 With their 6-42 record over the past three seasons, few level-headed gamblers have wanted anything to do with the St. Louis Rams in recent years. The Missouri Lottery hopes to change that.
On Saturday the lottery unveils
Rams Gridiron Gold
, a $5-dollar scratch-off ticket that could win you up to $70k if you win and tickets to a Rams game if you lose. (Talk about insult to injury!)
Lottery players can mail in their non-winning tickets for the chance to fly with the Rams to an away game this season or next, win tickets to a luxury suite at the Edward Jones Dome and other prizes.
The promotion ends December 14 -- or three weeks before what will surely be the Rams last game of the season, January 2, in Seattle. You can bet on that.